نویسنده: Maleki، S؛ Khormali، F؛ Bagheri Bodaghabadi، M؛ Mohammadi، J؛ Kehl، M؛ Hoffmeister، D؛
The effects of geological condition were assessed on density of Soil Organic Carbon (SOC) and Nitrogen (N) in
دانشگاه تهران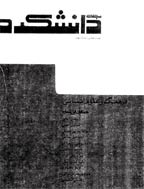 چکیده:
The effects of geological condition were assessed on density of Soil Organic Carbon (SOC) and Nitrogen (N) in a sequence of hillslope landscape, derived from different lithology i.e. loess deposit, reworked loess, marl with mixed siltstone and shale, reddish brown clay deposits and older loess in the semiarid area of northern Iran. However, other factors can influence SOC and N density such as land use, topography and climate with geology, pasture land use have been selected with a homogeneous climate to study their influence on density SOC and N of different lithology. Total of 108 soil samples were selected from two layers of 0-20 cm (surface) and 20-40 cm (subsurface). Results showed higher amount of SOC and N density, Cation Exchange Capacity (CEC) and silt were in surface layer of loess deposit that is related to vegetation density and root growth in this material than other conditions. On the contrary, the amounts of mentioned parameters were the lowest in marl. However, there was no significant difference between density of SOC and N in subsurface layer, but trend changes was similar with the surface. Overall, results show that there is a correlation between geological conditions and storing SOC and N. In conclusion, protection of surface and subsurface soil is important to increase density of SOC and N. Especially, overgrazing on steep slope of marl must be reduced or prohibited because rate of carbon loss to the atmosphere was significant and it is important in a changing environment from landscape to global scale.
کلیدواژه ها:
Lithosequence ،Loess ،Nitrogen density ،Soil organic carbon density
دریافت فایل ارجاع :
برای مشاهده محتوای مقاله لازم است ورود پایگاه شوید. در صورتی که عضو نیستید از قسمت عضویت اقدام فرمایید.