نویسنده مسئول: Eftekhari، Zohre؛
نویسنده: Mokhber Dezfouli، Mohammd Reza؛ Beikzadeh، Babak؛
BACKGROUND: Inflammatory reactions in pathophysiologic conditions of lung are a critical problem in the treatm
دانشگاه تهران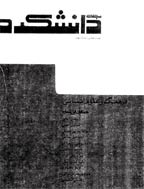 چکیده:
BACKGROUND: Inflammatory reactions in pathophysiologic conditions of lung are a critical problem in the treatment process, which in some cases lead to death, particularly in neonate. Exogenous lung surfactant has been considered as a candidate to treatment of inflammation in the lungs. OBJECTIVES: The aim of this study is to examine the efficacy of this substance in vivo and in vitro. METHODS: Calf lung surfactant extract (CLSE) was obtained from freshly slaughtered calves' minced isolates. For in vivo study: the New Zealand white rabbits as appropriate animal model were treated with formulated CLSE, then peripheral blood mononuclear cells (PBMC) were collected and the level and gene expression of IL-10, IL-6, IL-1β, IFN-γ and TGF-β were assessed before and after surfactant treatment for 30 days. In vitro study: four different formulated drug concentrations were added to rabbit PBMC and cytokines level and gene expression were evaluated. RESULTS: Our results indicate that IFN-γ and TGF-β increased at 24, 48 and 72 h which were statistically significant compared to baseline. While, IL-6 and IL-1β also started to decrease, IFN-γ and TGF-β increased due to surfactant therapy which reached its maximum expression after 7 days. CONCLUSIONS: This study suggested that CLSE could contribute in reducing pathology effects of pro-inflammatory cytokines by inducing regulatory response in lung which can be used as auxiliary and protective drug in respiratory diseases.
کلیدواژه ها:
Calf lung surfactants extract ،cytokines level ،exogenous lung surfactant ،regulatory response
دریافت فایل ارجاع :
برای مشاهده محتوای مقاله لازم است وارد پایگاه شوید. در صورتی که عضو نیستید از قسمت عضویت اقدام فرمایید.